Water Measurement Solutions
Can Envitech help with your specific requirements?

Envitech not only supply water and wastewater monitoring equipment and ancillaries, but where possible can customize products and installations to meet the specific water measurement requirements of an individual client. Two recent examples are monitoring mains flushing activities and storm water overflow events.

Aid for efficient water main flushing
Atkins, the UK's largest engineering and design consultancy, required a portable, battery operated, robust, easy to use solids/turbidity system which could be used for water measurement during mains flushing activities. The result has been to reduce flushing times and prove quality at the end of the activity.
Envitech worked closely with Atkins engineers, to adapt the fixed site SolSys-go unit to meet the required demands. The rechargeable battery and Nephelometric flow cell are housed in a rugged plastic carry case, whilst the controller and display are mounted externally on the same case.
Flow connections are made via quick release couplers enabling rapid connection to a stand pipe. Data is displayed visually for control and logged on an SD card for download after completion. This unit is now in regular use on mains flushing contracts.
Sampling, Monitoring & Data Transmissions for Storm Water Overflow
An extensive survey of multiple storm water overflows was to be undertaken in the Greater London area. Samples for lab analysis were to be taken at times off storm, as well as real time analysis for pH, DO, Sulphide, Redox and Temperature. Remote notification of activation and access to the real time data was also required.
Envitech engineered and assembled a suitable monitoring station, utilizing instruments, controllers and data systems supplied by Envitech as well as incorporating third party equipment such as samplers and flow detection equipment. A novel double flow cell to house the sulphide and multi-parameter probes and fed by the sampler pump was developed. The whole arrangement was engineered into a weather proof enclosure and delivered to site as a complete unit.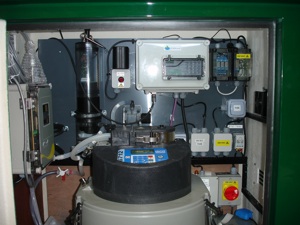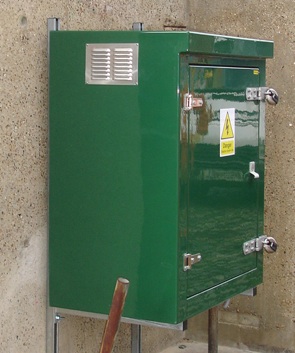 A Range of Optical sensors tailored for specific applications
Optical sensors can offer a simple and low operational cost for a monitoring application but typically are not a "Fit and Forget" solution. Understanding the application is the key to success including appropriate automatic cleaning systems and ensuring potential interferences are taken into account:
 Mounting Boards, Tanks & Enclosures
GRP instrument enclosures may be supplied and fitted out, GRP and SS tanks, splitting chambers made to customers applications re available as are customized PVC instrument mounting panels